Elio Jucci : SETH - "Semitica et Theologica"

Piero Raffa Opere Nuova Corrente Poesia-Immagine Bibliografie-Metrica Versification



Mi pare utile presentare il nuovo volume, appena uscito, di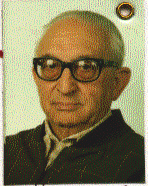 Piero Raffa,

Il ritmo della poesia. Proposte per una ritmica integrativa della Metrica, Luigi Ponzio e figlio editori in Pavia, Pavia 2000.

Per il momento mi limiterò alla nuda copiatura dell'indice,
in attesa di una presentazione più completa ...

Introduzione, 1
Capitolo 1. La metrica e il ritmo, 4
Capitolo 2. Il ritmo in carne ed ossa, 10
Capitolo 3. I fattori del ritmo, 16
Capitolo 4. Criteri per la scansione, 21
Capitolo 5. Un po' di storia, 25
Capitolo 6. L'innovazione del verso libero, 32
Capitolo 7. Idee per la traduzione, 40
Conclusione interlocutoria, 49
Bibliografia, 51

(Presentazione del volume: Mercoledì 9 Maggio 2001 Aula III Palazzo Centrale Università di Pavia,
con gli interventi di Alida Fliri e Giorgio Cusatelli)



2013

Il mondo della cultura piange Raffa http://laprovinciapavese.gelocal.it/cronaca/2013/03/01/news/il-mondo-della-cultura-piange-raffa-1.6622137
Garlasco, la casa di Raffa diventa una biblioteca http://laprovinciapavese.gelocal.it/cronaca/2013/05/25/news/garlasco-la-casa-di-raffa-diventa-una-biblioteca-1.7134157

Piero Raffa in http://kammeo.blogspot.it/ http://kammeo.blogspot.it/2013/06/piero-raffa.html


Altre Opere di Piero Raffa



Piero Raffa, Avanguardia e realismo. Milano, Rizzoli 1967. Prima ed.. 8vo, pp. 300
Cfr. IBS Yearbook, 5: 190-92.

Piero Raffa, Vanguardismo y realismo, Barcelona: Ediciones de Cultura Popular, 1968

Piero Raffa, Semiologia delle arti visive, Bologna, Pàtron Editore, 1976

Piero Raffa, "Some Contemporary Italian Aestheticians", The Journal of Aesthetics and Art Criticism, 20.3 (Spring 1962), , 287-293 http://www.jstor.org/stable/427326 pdf


Sulla Rivista "Nuova Corrente" della quale Piero Raffa era redattore
si veda
SANDRO RICALDONE WEBPAGE. Studies and Archive on the European Avant-gardes of the second Half of the Twentieth Century:
" ... di "Nuova Corrente", propugnatrice, con Piero Raffa, di un rinnovamento semiotico dell'estetica ..."
Hozro: materiali sulle arti a Genova hozro - sito per l'arte contemporanea a Genova [ Archive ]

http://www.tilgher.it/chrCorrelati/upload/doc/NC_Pagliarani.pdf Memoria di Elio Pagliarani
( Nuova Corrente NUOVA CORRENTE, rivista di studi specialistici a prevalente carattere letterario-filosofico, è stata fondata a Genova nel 1954 da Mario Boselli e Giovanni Sechi http://www.tilgher.it/(bvodlf45juegr3avnqp4zq55)/index.aspx?lang=&tpr=3)

" ... Su "Nuova Corrente" Piero Raffa proponeva l'estetica semantica ..."











Piero Raffa durante l'inaugurazione della mostra di alcuni suoi acquerelli - Garlasco 2005
Raffa


Rafael de Cózar,
POESÍA E IMAGEN:Poesía visual y otras formas literarias desde el siglo IV aC. hasta el siglo XX Frontespizio http://boek861.com/archivos/lib_cozar/portada.htm - Indice >>>
tra i capitoli segnalo:
FORMALISMO Y VISUALISMO EN EL SIGLO XX. LAS VANGUARDIAS http://boek861.com/lib_cozar/p3_c1.htm
LA PROYECCIÓN VISUAL DE LA ESCRITURA HEBREA http://boek861.com/lib_cozar/p2_c6.htm
ANOTACIONES SOBRE EL MANIERISMO O VISUALISMO EN EL MUNDO ISLÁMICO
Fundamentos de la escritura y caligrafía árabes http://boek861.com/lib_cozar/p2_c5.htm
[ Boek 861 http://boek861.com/ - Blog: http://boek861.blog.com.es/ "Boek visual es el blog de la web www.boek861.com, una web especializada en Mail Art, Poesía Visual y Arte Experimental. El objetivo de este blog es ser un escaparate visual para boek861 y, sobre todo, un gran banco de artistas que experimentan dentro del campo de la Poesía Visual y experimental" ]






BIBLIOGRAFIE - METRICA A cura di Barbara Ordonselli
http://www.lingue.unibo.it/Dottorati/Traduzione/bibliografie/metrica.htm
"I suggerimenti bibliografici qui proposti vertono essenzialmente sulla metrica francese e italiana e sono il risultato e un approfondimento dei seminari di traduzione poetica tenuti dal prof. Ruggero Campagnoli".





Può essere utile la lettura di alcuni saggi
alcuni dei quali comparsi sulla rivista Versification http://depts.washington.edu/versif/index.html
Welcome to the new home of Versification: An Electronic Journal of Literary Prosody ( il vecchio indirizzo http://sizcol1.u-shizuoka-ken.ac.jp/versif/ non è più attivo)

Versification. An interdisciplinary journal of literary prosody Vol. 1, 1997

Richard D. Cureton, A Disciplinary Map for Verse Study

David J. Rothman, Verse, Prose, Speech, Counting, and the Problem of Graphic Order

Reuven Tsur, Poetic Rhythm: Performance Patterns and their Accoustic Correlates

Reuven Tsur, Rhyme and Cognitive Poetics http://www.tau.ac.il/~tsurxx/RhymeGestalt_2.html jstor http://cogprints.ecs.soton.ac.uk/ Tsur

Tsur, Reuven (2002) Aspects of Cognitive Poetics, in Semino, Elena and Culpeper, Jonathan, Eds. Cognitive Stylistics—Language and Cognition in Text Analysis., chapter 12, pages 279-318. John Benjamins Publishing Company: Amsterdam/Philadelphia.. http://cogprints.ecs.soton.ac.uk/archive/00003204/

Ramus, Franck (2002) Acoustic correlates of linguistic rhythm: Perspectives. In Bel, Bernard and Marlien, Isabelle, Eds. Proceedings Speech Prosody 2002, pages 115-120, Aix-en-Provence. http://cogprints.ecs.soton.ac.uk/archive/00002273/ pdf

Ramus, Franck and Nespor, Marina and Mehler, Jacques (1999) Correlates of linguistic rhythm in the speech signal. Cognition 73(3):265-292. http://cogprints.ecs.soton.ac.uk/archive/00000869/ pdf




Ultimo Aggiornamento: The contents of this site page copyright (C) by Ailuros